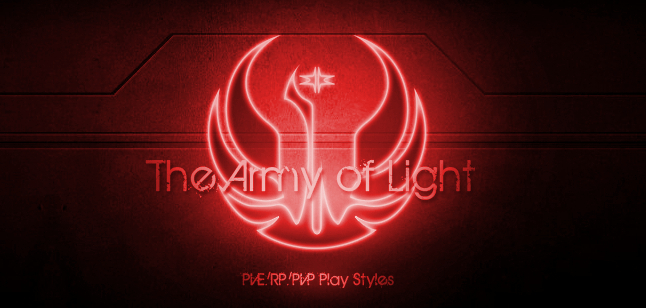 The Army of Light



Alignment:

Galactic Republic

Classes Recruiting:

Jedi
Troopers
Smugglers

Current Member Count

80+

Grand Master:

Jephos Mispir

Founded:

February, 2010

Server

The Ebon Hawk

Guild Colors

Red
Silver
Black
White
O' Brave, ancient galaxy, that hath such soldiers in it...
Guardians of peace and justice...
Civilization begins with order, grows with liberty, and is defended through sacrifice...
Every generation has its challenges - its own battle to face...
Our ally is the Force - through the strength of the Force the shroud of evil holds no sway over us...
We have dedicated ourselves to rekindling the light of the Order - ours may be a smaller beacon, but it has been growing both in size and in brilliance...
We are like tempered steel, purposeful and razor-keen. Always we shall be in the front rank, a burning brand to our enemies, a brilliant fire to our friends. Ours is a restless life, and never shall we know peace, though we shall be blessed for the peace that we give to others. We shall take comfort in the fact that, though we stand tall and alone, others may take shelter in the Light we cast...
What is the Army of Light?
The Army of Light (AL) is a  guild for the Bioware title, Star Wars: The Old Republic (SW:TOR). It has a light to medium Role-play (RP) atmosphere and will focus on both Player-vs.-Environment (PvE) and Player-vs.Player (PvP) in-game. The AL is open to all regardless of race, origin, belief, culture, religion, political affiliation, age, time zone, country, local area, gender, or experience. However, a strict dedication to the Republic and the guild are required for membership. We maintain a presence on The Ebon Hawk server.
How was the Army of Light Founded
The foundation began to fall into place in late January of 2010. Dissatisfied with poor leadership and environments lacking in both maturity and dedication,
Master Jephos Mispir
struck out to see where the Force would lead him. He began to understand the fundamental flaw within the Republic – the allowance and even welcoming of Imperials and practitioners of the Dark Side. Therefore, he recruited his son
Master Caliber Mispir
and long-time friend
Master Zin Koon
to assist him in creating a new Republic stronghold, free of the corruption and impurities that plagued so many others. Together they laid out the framework for what would ultimately become the guild, and shortly thereafter
The Army of Light
was officially established in February of 2010.
What other Features does the Army of Light Provide
The AL maintains its privately owned Ventrilo client for voice communication, this Wiki listing exclusive to our members, and periodically releases member-created guild Podcasts and recruitment videos. In addition, AL members coordinate social activities for members and allies designed to provide an enjoyable, stress-relieving, community-building atmosphere. These include game, trivia, and movie nights, chat room "DJs", role-playing scenarios and storylines, and contests.
What Councils and Agencies does the Army of Light Possess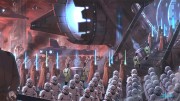 The High Council (HC)
is led by
Grand Master Jephos Mispir
and includes the following elected officials:
Ludwig VanCover
,
Mai Skyblade
,
Geryth Corsair
,
Tann Secura
, and
Jaedon Pheonix
. The
HC
is responsible for day-to-day operations both in and out of game. The
Recruitment Council (RC)
is headed up by
General Geryth Corsair
and is responsible for maintenance of the guild's Application Center, SW:TOR Recruitment Thread, reviewing applicants, and seeking out new recruits.
What is the Army of Light Academy
"Training to become a Jedi is not an easy challenge, and even if you succeed, it's a hard life."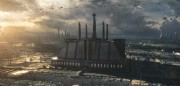 The
AL
is committed to education and continuous learning.
The Academy
has both a practical and a role-play benefit to it. Classes are held on a variety of subjects and are taught by experienced members and leaders of the guild. In this way, the members' knowledge of the
Star Wars
universe is expanded, information valuable in-game is shared, members earn rank and prestige, and the
AL
community is strengthened. Running concurrently with the
Academy
is the guild's Jedi Master-Padawan system. The Academy also hosts a
Officer Training School (OTS)
, where prospective officers of the
AL
learn what they require to function successfully within their new role.
Community content is available under
CC-BY-SA
unless otherwise noted.